The main things to look for in a goof gaming chair for PS4 and PS5 are comfort and durability.
Long gaming sessions do cause discomfort as well as wear and tear on the chair itself, but the having the right gaming chair really makes a difference.
Especially when it comes to comfort, it's important to evaluate how the chair influences your posture, because an incorrect posture can cause way more damage than just mere discomfort, on the long term.
When you've found the best chairs in terms of comfort and durability, you can focus on all the other features, such as materials, components, connectivity.
These are the criteria we've used to pick our selection of gaming chairs for PS4 and PS5 players. Have a look at it. 👇
Killabee leather massage chair
The high-quality materials make this chair extra-durable. Even with very little care, it could potentially last a lifetime. There are cushions and pads everywhere, even on the armrests, to ensure maximum comfort and support, which is great for those night-long gaming tournaments where preventing fatigue is a matter of essence.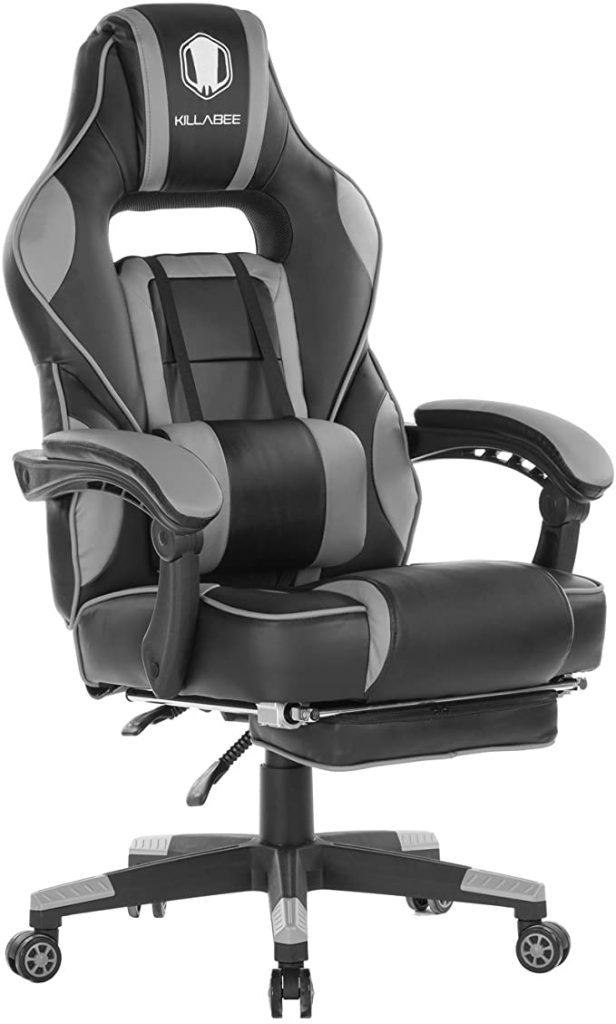 The cushions are placed ensure you keep a correct posture throughout the gaming session without forcing your body in unnatural positions, even if you tend to slouch.
And, if that's not enough, there's also a retractable footrest, in case you had a hard day at work.
It's very clear that the focus of this chair is comfort, in fact, it also comes with a very interesting massage feature, fully adjustable as you please.
Price: $209.99 on Amazon.
X-Rocker Pro Series H3
A great gaming chair for PS4 and PS5 players, with a very peculiar design that definitely makes it stand out. It's equipped with bluetooth 4.1 speakers for a highly immersive, headset-free gaming experience. The fact that it's all wireless makes it great for playing at a sufficient distance from the screen, therefore, perfect for PS4 and PS5.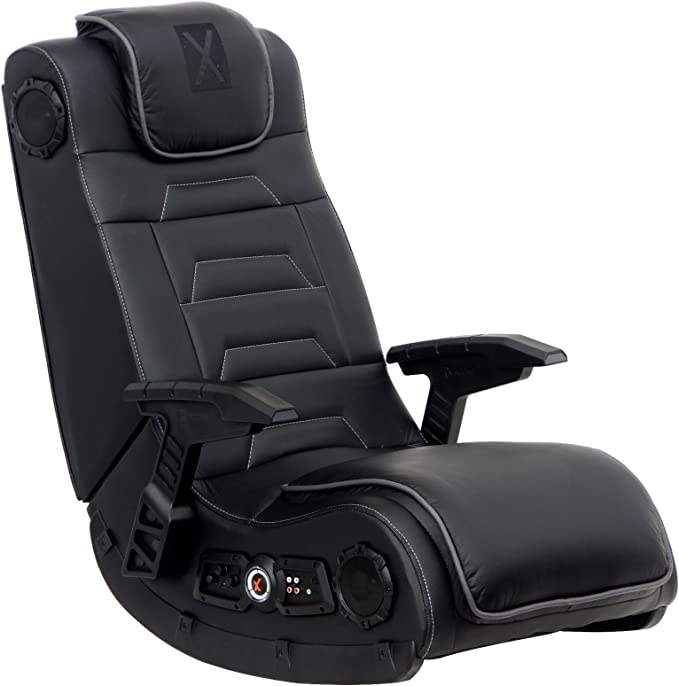 The ergonomic seatback is very comfortable and lets you enjoy your gaming for hours and hours. And speaking of immersive gaming, the vibrating floor is also another great addition to this fine piece of gaming equipment.
When you don't use it, you can fold it in the blink of an eye and place it anywhere you see fit.
Price: $393.75 at Walmart.
GTPlayer GT890M
This chair provides immersive gaming with its embedded speakers, so you don't have to use a headset for hours. They connect via bluetooth, so no wires around, no mess, therefore, comfortable gaming. The chair is also comfortable thanks to its cushions and pads placed in strategic areas, like lower back and armrests. You'll literally feel like someone's hugging you from behind.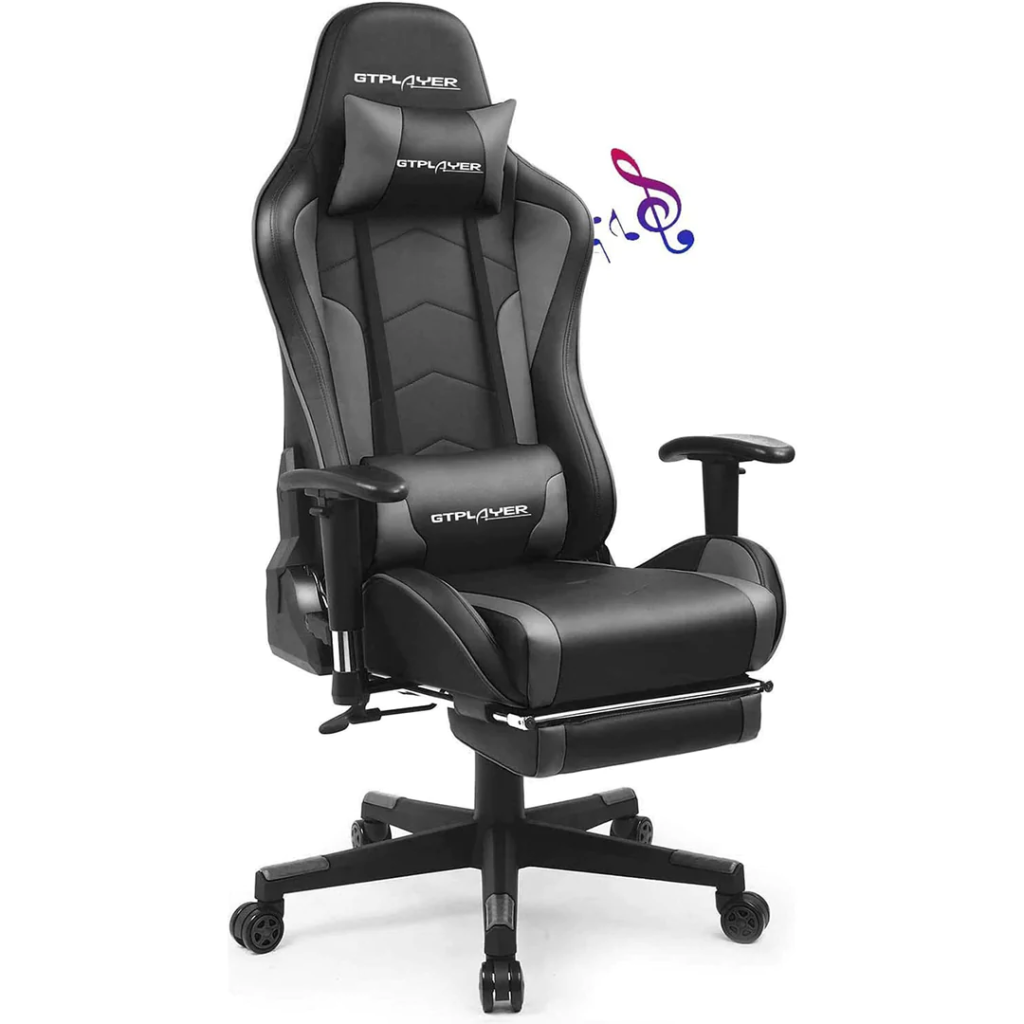 And if you feel very tired, you can recline it and enjoy a bit of relax between a game and another. Materials used make the chair very soft, so we doubt you'll feel tired at all, though.
Another reason why this is a great chair is also the relatively low price.
Price: $149.99 on Amazon.
HeiPard 03BR
If you only care about comfort and you don't need any fancy audio system, you can get this very comfortable and durable gaming chair. With its reinforced seatback, it'll last for years, even when used daily. The adjustable cushion makes sure you keep a good posture during your gaming session, reducing fatigue and increasing comfort.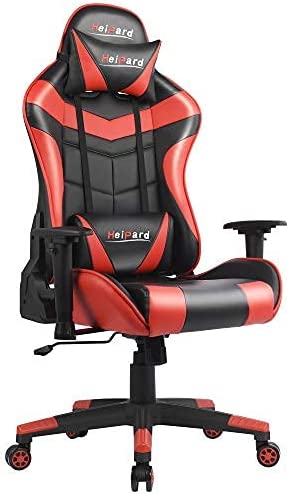 It can be reclined, so you can find the angle that suits you best, based on where you have your TV screen or on when you want to take a nap. 😉
And if you're wondering how much this good gaming chair for PS4 and PS5 is going to cost you, well, don't worry about it: you can find it in our Gaming Mystery Box.