After giving you a few ideas on a gaming chair for PS4 and PS5 players and recliner gaming chair for those who want to play hard and relax harder, we want to share with you a brief collection of recommendations on what to look out when choosing a new chair, because the gaming chair best buy is the one that suits your needs.
If you love to spend hours of your free time in the company of your favorite video games, then it is crucial for you to find out what factors are relevant when buying a comfortable chair. There we go, get ready for the next paragraph!
Comfort
The best gaming chairs are those designed with ergonomics and comfort in mind. They should be adjustable, provide enough room for leg movement, and adequately support your back and neck.
Many manufacturers try to combine several features in one product. That's why it is important to carefully examine all specifications before choosing a model to purchase.
Among the features a gaming chair must have, there is undoubtedly excellent comfort for the back, neck, lumbar and head areas.
You will, in fact, spend several hours sitting on it while playing video games and it's critical that it doesn't cause you posture problems over time and that it is as comfortable as possible for you.
If you spend hours playing PC or console games, then you know how crucial comfort is and how much you feel the need to rest your back after a while.
Obviously, the comfort of a seat is always a fairly subjective factor, but there are specific parameters that allow you to count on better spinal support and ergonomic posture.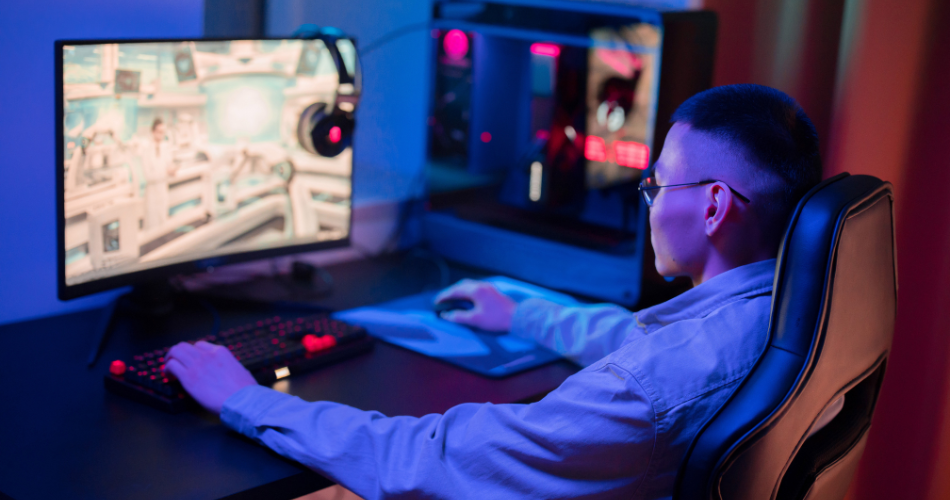 In this sense, gaming chairs equipped with seat height adjusters can be useful for you. We also recommend that you buy models equipped with armrests so that you can rest your arms and relieve tension when needed.
If comfort is one of the factors you care most about, then we recommend you consider models with solid and adjustable armrests, with an included headrest and mechanism for adjusting it. This will give you better support to keep your neck stable.
Materials
Another important factor to consider when choosing the right gaming chair is the materials with which the chair is made. There's a variety of materials used to create gaming chairs on the market.
The basis of any gaming chair is the frame, which has a number of functions. This function includes stability, durability and overall comfort when sitting in the gaming chair.
In most cases you will find chairs made of synthetic leather (usually the cheapest), other times you will find a mix of synthetic leather and nylon while in upholstered ones the main material used is polyurethane in combination with nylon that gives strength and reliability to the chairs, especially in the stitching parts.
Going up in price, it's possible to find chairs made of carbon fiber leather assisted by ultra-durable nylon. High-end chairs, which can cost more than a thousand dollars, are generally made of breathable materials and upholstered with premium foam that ensures a pleasant seat at any temperature. This type of chair is also perfect for use as a simple office chair for daily work.
Each material has different properties, so each material has its pros and cons. If you want to spend little, but still get a good reliability of the product, I recommend relying on a solid and durable but affordable material such as polyurethane in combination with nylon.
Durability
Another very important factor that must influence the choice of a well-made gaming chair is definitely its ability to stand the test of time. You will make extensive use of it, which is why it's important for it to last.
That's why the chair needs to be made of solid and durable materials, so that it will perform well even at a considerable age. Remember, however, that by law, there's a warranty on purchases that protects you.
In this regard, I strongly recommend that you read the reviews on the product which are an excellent indicator to learn about the reliability of the chair in question, any problems, factory defects and critical issues.
Price
Nobody wants to buy an overpriced chair. Always compare various models and brands in order to reach the best compromise between price and quality. That's what a best buy is.
Alternatively, try to get one in our Gamers Box. 😉